Free Thinking
If you're interested in receiving tips, tricks and thoughts on smart marketing best practices, sign up below for some Free Thinking, compliments of team PIPEDREAM.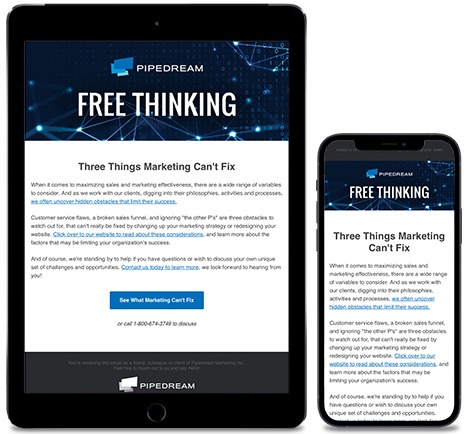 In this occasional email newsletter, we'll deliver thoughtful content right to your inbox that will help you understand today's sales and marketing best practices and maximize results for your business. It's not regularly-scheduled, but it's thoughtful, relevant and hopefully helpful whenever we do hit send.
If you're interested in signing up for Free Thinking, fill out the form below and you'll be added to the list! We won't share your info with any third parties, we promise. And if you have any questions, or just want to kick around ideas, contact us today. We look forward to hearing from you!
---